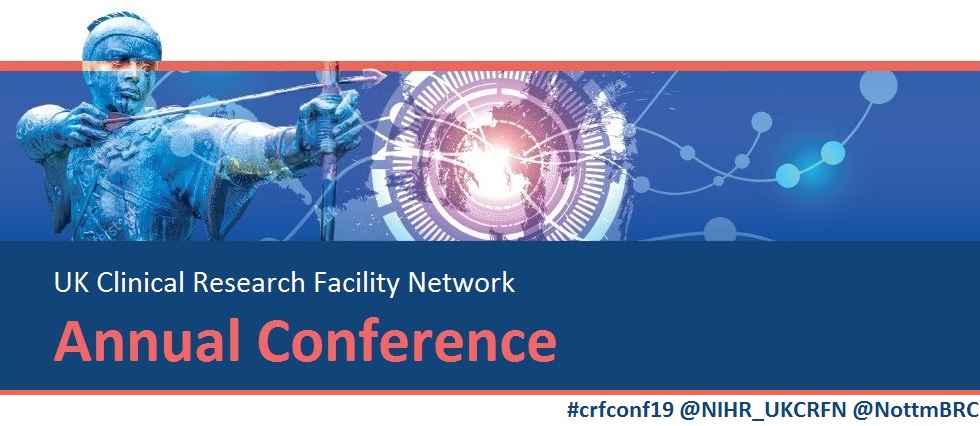 Workshop / Parallel Sessions
On each day of the Conference we run a series of 6 workshops (parallel sessions) at the same time for you to delve deeper into a topic your most interested in.
To help us organise appropriate rooms we ask all delegates to pick their parallel sessions prior to attending the Conference. Attendees who have already registered or who will be registering online will be contacted by our Conference team to request these choices (for more information click here).
To learn more about the sessions on offer, please click on the headings below:
Oxford Lithium Trial (OxLith) (1 hour)
The OxLith study is a 6-week double-blind, randomised, placebo-controlled study of participants with bipolar disorder and mood instability. It aimed to identify the early clinical, neurocognitive and biological effects of initiating lithium treatment (Saunders, et al., 2016).
Dr Catherine Henshall, Oxford CRF
Stand Up and Be Counted (1 hour)
To describe the diverse infrastructure of the Clinical Research Nurse (CRN) and Midwife workforce in Ireland and present the results of a survey to identify:
How many research nurses/midwives are currently working in Ireland
Where they are located
The terms of employment
The roles and responsibilities.
Carole Schilling and Deirdre Hyland, Dublin CRF
The Generation Game, Supporting Evolving Workforce Needs (1 hour)
As we all work longer the number of generations working alongside each other is increasing. While this multi-generational workforce has many benefits, it generates a diversity of needs which can make balancing individual and service needs challenging. This session will explore how CRFs can ensure a stable and productive service by meeting the challenges of an intergenerational workforce.
Katherine Blackstone, Guys and St Thomas CRF and Jennifer Allison, Southampton CRF
Deep Dives: Learning and Transition (1 hour)
We aim to share our experiences of a bespoke, personalised leadership development programme introduced for CRF staff in senior leadership roles. We will explore why we designed the program, the content and will share the impact and personal learning from 4 perspectives: Director, CRF Manager, Head Nurse, Nurse Team Leader.
Caroline Saunders, Jo Piper, Stewart Fuller, and Dorothee Koscielny-Lemaire, Cambridge CRF
Creating Inclusive Research - Strategies to improve diversity within public involvement. (1 hour)
This session aims to inspire staff and researchers to try new approaches to improve the diversity of patient and public members represented in involvement activities (PPI). Delegates will hear the approaches others have tried, and the lessons learnt in the process.
Paula Wray, NIHR INVOLVE,  Bella Starling, Manchester CRF, and Caroline Barker, Southampton CRF
Research Nurses to the Rescue! (2 hours)
The session supports dissemination of best practice across the multidisciplinary workforce including improvements in skills and knowledge and implementation of new approaches and processes. It includes presentations from adult and paediatric nurses and practitioners highlighting complex experimental medicine studies and how they were successfully delivered followed by a facilitated discussion.
Jane Martin, Southampton CRF, and Gail Mills, Sheffield CRF,
UKCRF Network Research Nurses and Practitioners Theme Group
NuVision - Collaboration with Industry
The development of a new clinical product using amniotic sac tissue donated by elective caesarean patients. The result is an innovative and unique collaboration between industry, regulators and the NHS. This successful collaboration creates an improved patient pathway for ophthalmology patients suffering from front of eye disease. It enables women to contribute to wound healing and a waste product to be utilized to the best of its potential.
The Use of Bioelectrical Impedance Analysis Technology in Clinical Care (1 hour)
This workshop is an opportunity to review the use of BIA and explore the possibilities of using this technology in CRFs' research offer. We wish to explore how we might work with you in a collaborative activity that applies common methodology, analysis and reporting to deliver a portfolio of research studies that can be brought together in a way that brings added value and opportunity.
S. Wootton on behalf of the NIHR Cancer and Nutrition Collaboration
Accelerate the Delivery of Trials through CRFs; Working with CROs to Make this Real (1 hour)
Review the part that Contract Research Organisations (CROs) have in facilitating and fueling Theme 2 of the UKCRF Network's 2017-22 bid and strategy. How the Network can become a conduit for CRFs to be the home for Experimental Medicine in England and the wider UK/Ireland.
Stephen Barnett, Guys and St Thomas' CRF and Paul Brown, Lancashire CRF,  Stephen Jasperse, Covance
Collaboration from CRFs and CROs
Accurately Representing CRF Research in the Media (1 hour)
An interactive session to enable CRF-affiliated staff improve understanding of how to identify a good media story and work with press offices and journalists to ensure that research is presented accurately and in a way that protects and enhances the reputation of the CRF.
Rachael Dowling, Leicester CRF
Art+Science+Communities = innovative engagement (1 hour)
This workshop will:
Offer an overview of approach to working with 3rd sector arts charity, shared learning regarding opportunities and challenges of this type of project
Through examples of personal stories and shared public experiences – offer insight into what this work elicited
Discuss learning and how this will inform future work
If available a representative either writer/performer or representative of the arts charity to  come along and co-present/share their experiences
Debbie Beirne and Jeanette Thorpe, Leeds CRF
Scalability Sanity Savers – Project Management Skills for Workforce Development (1 hour)
This session aims to highlight the benefits of allocating resource to project management and its impact on study delivery. The session will demonstrate how project management is scalable from initial skill development to established teams. The session will identify key milestones which will help CRFs large and small, new and established, to introduce project management into their teams.
Yemi Adelaja, Guys and St Thomas  CRF and Stephen Saich, Southampton CRF
Schedule of Events Cost Attribution Tool (SoECAT) – Sheffield CRF (1 hour)
To review the Schedule of Events Cost Attribution Template (SoECAT) and its purpose.
How this will affect the UKCRFN community.
How it supports researchers in identifying site-level study activities and ensuring cost attributions work in research and for CRFs.
Ian Brown, Sheffield CRF and Chair of the UKCRF Network Costing and Sustainability Theme Group
Treating the Untreated: Learning Lessons from Recruitment Challenges (1 hour)
Underlying mechanisms, such as inflammation, may contribute to treatment resistant depression. Sirukumab, an anti-inflammatory medication, possibly improves depressive symptoms. Increased blood levels of high-sensitivity C-reactive protein (hsCRP) is a biomarker of inflammatory depression (Salvadore et al, 2018); however, recruiting patients with this biomarker is challenging as its frequency in routine clinical care is unclear.
Dr Catherine Henshall and Sarah Mather, Oxford CRF
Advanced Clinical Practitioners (1 hour)
Advanced Clinical Practice (ACP) is a level of practice characterised by a high degree of autonomy and complex decision making, underpinned by a master's level award that encompasses the four pillars of advanced practice. Throughout the United Kingdom (UK), the ACP roles remains underutilised in UK clinical research settings. Advanced Nurse Practitioner (ANP) roles in clinical research provide significant scope to utilise research resources more efficiently while offering a high level of specialised holistic care. However, the development of this role continues to be challenging due to historical issues relating to interpretation of good clinical practice (GCP) guidelines.
Collaboration across CRFs
The Role of Patients and the Public in Raising Awareness of CRF Research – Alder Hey CRF (1 hour)
This session will address the challenges and benefits of supporting a 'Patient Research Ambassadorial' role within the UKCRFN to inform recommendations on how best to support patients in this role and what impact this may have on the interest and recruitment to CRF studies.
Aiding the Auditor, Cracking the CAPA (2 hours)
It is a regulatory expectation that organisations have quality assurance procedures in place to provide assurance that clinical trial activities are being conducted in accordance with the protocol, SOPs, applicable legislation and GCP. This includes an effective internal audit programme. Auditors should be independent of the activities being audited and appropriately qualified and trained to conduct audits properly. However, this can be difficult in a CRF setting, particularly when dedicated QA resources are limited, have only recently been established, or do not yet exist!
James Gibson, Edinburgh CRF
The Whole is Greater than the Sum of the Parts (1 hour)
We engaged a multidisciplinary team to develop and deliver a training workshop on a new Standard Operating Procedure (SOP). Staff indicated that the more experiential approach, allowing them to develop competence in "hands-on" clinical skills achieved better learning outcomes. We believe the model we used is adaptable and scalable for other CRFs.
Sarah Ruiz and Henry Fok, Guys and St Thomas CRF
What do CRF Managers do? (1 hour)
It has become apparent that there is an unmet need in terms of a formal development package for CRF Managers which could be used across the UK CRF network community. We therefore intend to canvass the opinion of what might be practical in the ever changing landscape of clinical trials and the research facilities that deliver them.
This workshop will explore development of a new CRF managers toolkit and professionalisation of the role.
Sally Batham, Leicester CRF
Lets Talk Consent : The Paediatric Way (1 hour)
The aim of the session is to respond to a request to share best practice and talk through difficult paediatric consenting scenarios. It will enable paediatric staff to attend a session specifically designed for them on a key component of the research process.
Stuart Gormley Sheffield CRF and Rekha Patel Leicester CRF
Surviving the Scenario – UKCRFN Education Group (1 hour)
Interactive session to provide knowledge and skills to conduct effective debriefing following emergency scenarios. Session objectives:
Recognise the key communication skills when conducting a debrief session
Indentiify relevant feedback processes for debriefing.
Define the documentation process.
UKCRFN Emergency Scenario Guidance (version 4.0) will be introduced.
UKCRF Network Education Group, collaboration across CRFs
Evaluating PPI in Clinical Research – Edinburgh CRF (1 hour)
How should CRFs evaluate their PPI activities? Can we learn lessons from the AUKCAR evaluation?
The Asthma UK Centre for Applied Research (AUKCAR) has, since its inception, worked in collaboration with lay volunteers to embed PPI to support researchers to plan and deliver meaningful involvement. The aim of this project was to evaluate the impact of PPI on AUKCAR research, researchers and lay volunteers.
Carol Porteus and Olivia Fulton, Edinburgh CRF