The UKCRF Network develop, support and share best practice for staff education, training and development to facilitate delivery of experimental medicine studies.
The Workforce Development Team work with the National Institute for Health Research (NIHR) and the Clinical Research Network (CRN) to support the education, training and development of Clinical Research Facility (CRF) staff. By developing new resources and sharing best practice, the Network supports a highly skilled workforce who employ their skills to safely deliver experimental medicine studies in the NHS.
Identify, Prioritise and Deliver Training
Training workshops are delivered at our two-day
Annual Conference
and via online webinars to provide flexible and timely access to training.
Support NIHR Workforce Initiatives
We work with the NIHR on many of their workforce initiatives. Priority projects with the NIHR include:
Scoping and defining the expanding and valuable role of Clinical Research Practitioners (CRP)
NIHR International Nurses Day Celebration Events
Develop and Share Training Tools
Click here
for the tools that have been developed by the Theme to support CRF staff training.
If you would like to share your CRF training tools with the Network or request for a training to be developed please contact us by clicking here. All requests will be reviewed by the Workforce Development Theme Leads and discussed at the relevant Theme Group Meeting.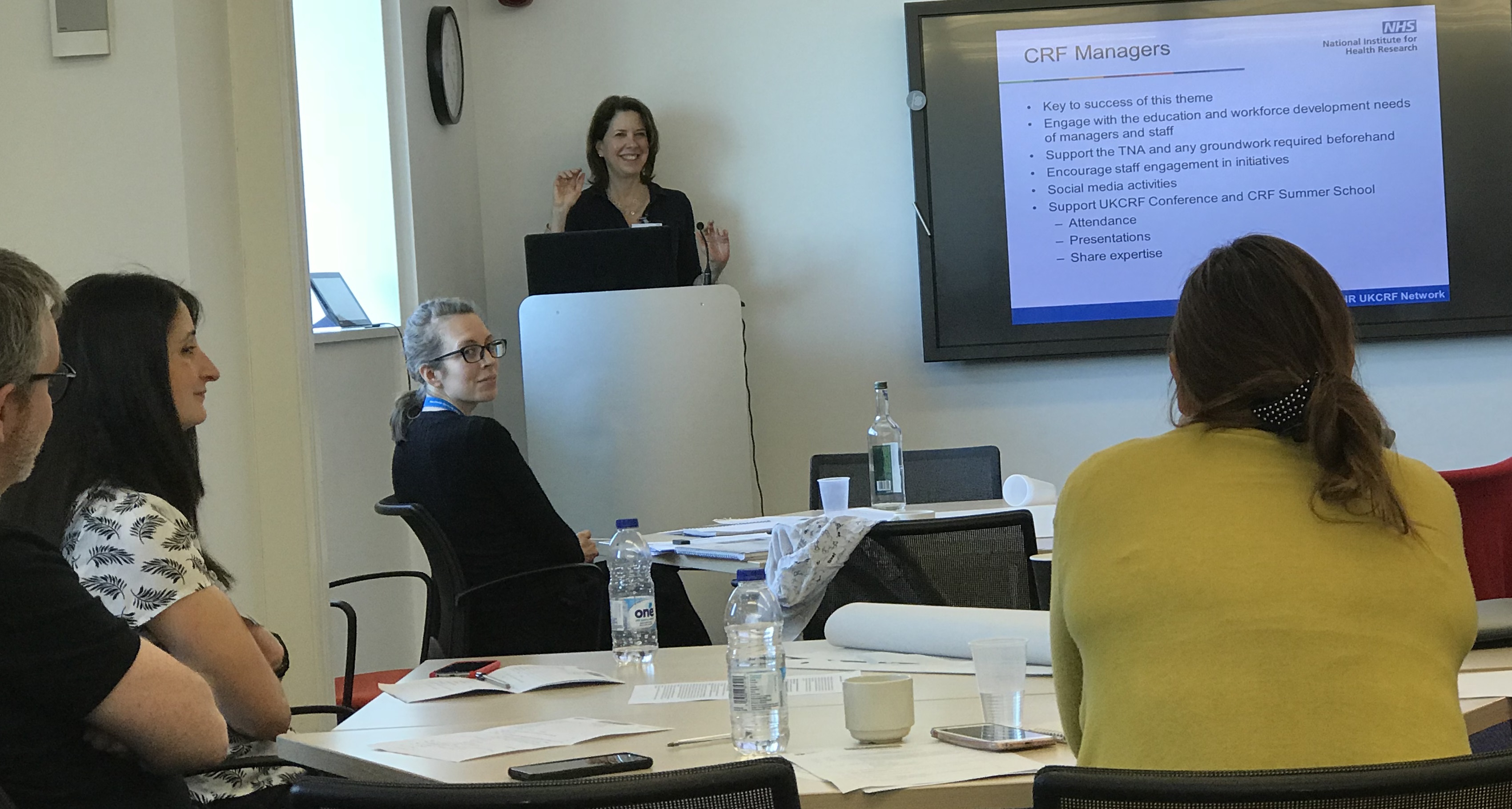 Jennifer Allison, Theme Lead, presenting at the CRF Managers engagement session, July 2018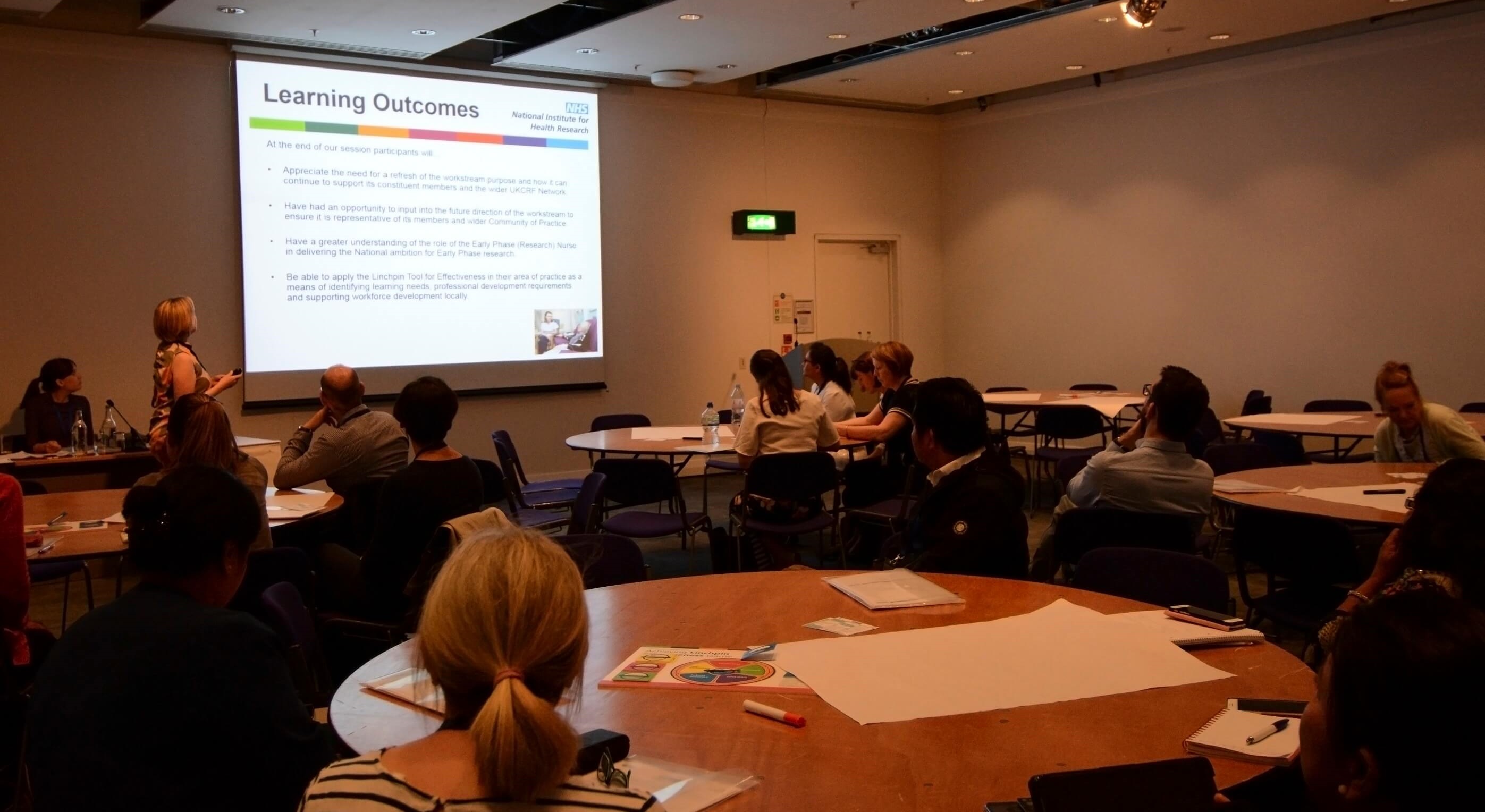 Workshop at the UKCRF Network Annual Conference in Glasgow, 2017
Theme Groups
Theme Groups are teams of expert individuals able to offer advice and guidance on their specialist areas. Each Group works to a set of goals that help the UKCRF Network achieve its main objectives.
The Workforce Development Theme Groups are:
Education and Training Theme Group
Group Chair:
Naomi Hickey
, Glasgow CRF
The Education and Training Theme Group provides a forum where staff who lead on education and training in their CRF can collaborate, share expertise and develop new resources.
The Group have created guidance documents and training tools to support CRFs in training their staff. These documents are regularly reviewed and refined using feedback from CRFs. The group continues to contribute to and lead on projects derived from the Workforce Development Theme strategic objectives.
Research Nurses and Practitioners Theme Group
Group Co-chair (adults):
Gail Mills
, NIHR Sheffield CRF
Group Co-chair (paediatrics):
Jane Martin
, NIHR Southampton CRF
The Research Nurses and Practitioners Group provides support to adult and paediatric research nurses, advanced nurse practitioners and clinical research practitioners. The Group champions the identity and contribution of clinical research staff, who are highly valued within CRFs.
Through the development of standards and best practice guidance, the Group leads on the maintenance and improvement of patient experience and safety within research, and supports the Workforce Development strategic objectives. The Group also provides a forum where nursing staff and practitioners from various CRFs come together to share ideas and expertise.
Quality Assurance Theme Group
Group Chair: James Gibson,
Edinburgh CRF
The Quality Assurance (QA) Theme Group supports collaborative working by sharing good practice and developing guidance documents and tools. The Group develops common QA systems in CRFs to support high quality, safe and compliant research practices across the Network.
The Group also provides a forum where staff who lead on QA in their CRF can discuss QA topics via group meetings, online forums and workshops. Through collaboration the QA Group encourages a culture of continual quality improvement in every CRF in the Network.
All Theme Groups have developed guidance documents and tools for use within CRFs.  A full list of tools can be found on here and downloaded via the UKCRF Network Portal.
If you would like to join any of our Theme Groups please contact us.
We Are Research Nurses- International Nurses Day 2021
Workforce Development Resources