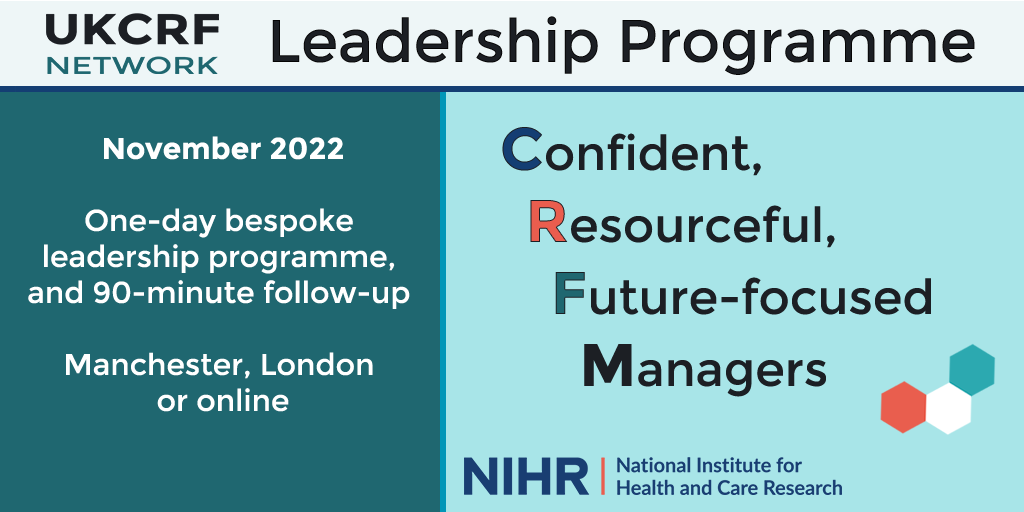 Programme Summary
Understanding our strengths and values lays the foundations for us to coach, collaborate and influence successfully and authentically across the systems we work in.
This one day bespoke programme will also explore a range of practical tools and insights from positive psychology, to support us in coaching those with different expertise, influencing without authority, and forging beneficial collaborations across our hospital and wider infrastructure. All with the aim of becoming Confident, Resourceful, Future-focused CRF Managers.
The programme uses stories, examples and scenarios that have been designed for the UKCRF Network.
Programme Details
Programme Contents
Introduction & Mindset
Leader as Coach
Influence to Collaborate
Connection Power: Building Strategic Networks
Lunch
Harnessing Referent, Information & Expert Power to Engage Others
Peer Coaching
Next Steps
Close
Action Learning Sets
The one-day leadership programme will be followed by a 90-minute virtual action learning set two months later, to share a real-world challenge and receive supportive coaching from your peers, guided by an expert facilitator.
Action learning sets will be in smaller groups and will take place around 18th and 20th January 2023.
Who is the programme for?
Current and aspiring operational and nurse managers within CRFs.
Locations, Dates & Prices
Friday 11 November – London – £280*
Friday 18 November – Online – £240*
Friday 25 November – Manchester – £280*
*Prices do not include VAT.  VAT is exempt for NHS Trusts, but will be charged for all non-NHS organisations.
09:30 – 17:00  (reception from 9.15am, prompt start at 9.45am)
The venue address will be included in the email confirmation. Please note that there are two venues in London, so please check your email careful in case it is different to a colleagues)
Action learning sets will take place in January 2023 and will be virtual 90-minute sessions.
Catering
The face to face leadership programme at Manchester and London comes with a sandwich lunch, as well as drinks on reception and at breaks.
Pre-work
There will be pre-work to complete in preparation, where you will be asked to map out your current network, reflect on specific situations you would like to better influence or where you wish to collaborate with others, and to complete a strengths profile.
Programme delegates will be contacted about pre-work closer to the time
In the meantime, to stir your thinking, complete the world-leading Free Starter Strengths Profile now. You will need to register for an account and then follow the steps: https://www.strengthsprofile.com/en-GB/Products/Free
Invoicing
Payment for the course will be invoiced by Manchester University NHS Foundation Trust.
If your organisation requires the bank details prior to being invoiced, please download a signed letterheaded copy of the bank details by clicking here.
Please submit a purchase order number to [email protected] before the programme starts.
Cancellation Policy
Full refund up until 28th October, no refunds will be issued after this date.
Event Flyer
Download our event flyer here to email to your staff and colleagues
Register Now
Complete the form below to reserve your place. A purchase order number is required before 21st October to secure your place. Please submit a purchase order number to [email protected].
If you not see the embedded form below, please use this link instead: https://www.surveymonkey.co.uk/r/HTXLZF9