We are the gateway to delivering cutting edge experimental medicine clinical research across the UK and Ireland.
Work Programme
The Network has established four work packages to deliver the corresponding strategic objectives:
These are delivered by a work package Lead, Deputy, Working Group Chairs and group members.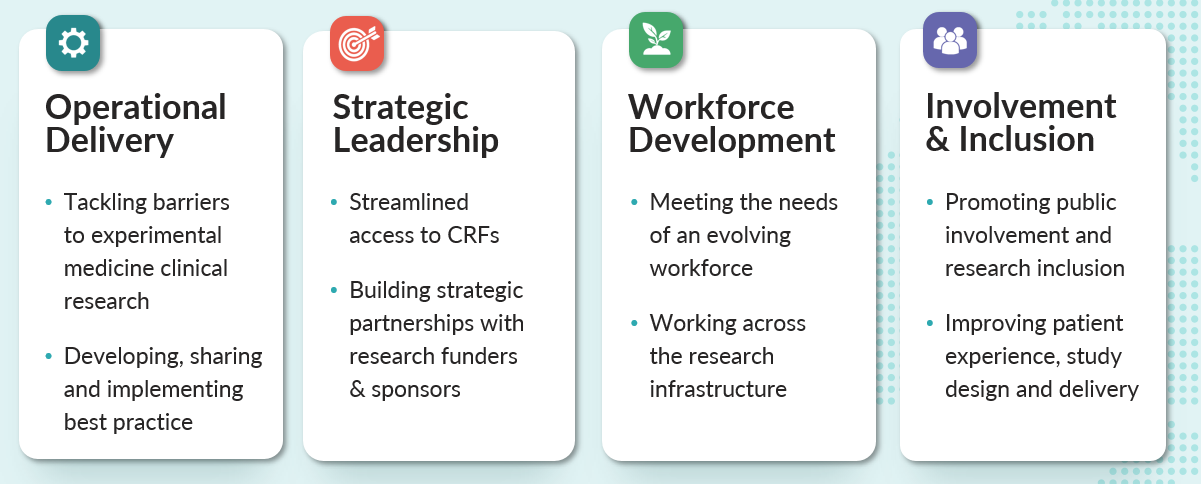 Work Groups
We have work groups to support our work programme and provide opportunities for peer support, sharing best practice and overcoming challenges. By networking with other CRFs we also avoid duplication of effort, improve skills, and introduce more efficient ways of working.
CRF staff can join the work groups listed in the diagram below. Groups welcome one to two representative from each CRF. Please speak with your CRF/Line Manager if you're interested. Group members can act as Network ambassadors and promote Network activities and opportunities across their CRF.

Tools and Guidance
The UKCRF Network Theme Groups have worked together to develop a series of tools such as guidance, training materials, spreadsheets and check lists to support CRF operational excellence and workforce development.
The tools are available to download from our CRF information Portal (for access to the Portal complete the form by clicking here). 
Information about all the documents we have to offer can be found here.
For up-dates on tools and guidance, and news about the Network, sign up to our quarterly newsletter by clicking the button below.
Newsletter Sign-up