We are delighted to announce that Paul Brown has been appointed to the role of Interim Director following the retirement of Helen Pidd, former Operations Director of the NIHR Manchester Clinical Research Facility (CRF), in December 2021.
The UKCRF Network is currently hosted by Manchester University NHS Foundation Trust (MFT) and collaborates with CRFs and other experimental medicine infrastructure across the UK and Ireland to develop, share and implement excellence in operational practice to ensure the efficient and effective delivery of studies, and drive forward initiatives that improve quality of patient experience.
Currently Head of Research and Innovation at Lancashire Teaching Hospitals, Paul oversees the NIHR Lancashire CRF and is also co-chair of the NIHR North West Coast Clinical Research Network Research and Development Forum. He was previously Deputy Director/Operations Manager at Manchester CRF for 14 years.
Paul previously led Theme 2 of UKCRF Network strategy to coordinate and accelerate the delivery of trials through CRFs, which is heavily focused on collaboration between CRFs and Industry. He has been on the UKCRF Network Senior Management Team for 10 years, initially to represent non-clinical CRF Managers. His role in the UKCRF Network has included founding and oversight of the Costing and Sustainability Workstream with work on the NIHR Industry Costing template. Paul has also provided formal review and recruitment support to several developing and established research facilities across the UK and Ireland.
Paul started the post on 28 February 2022.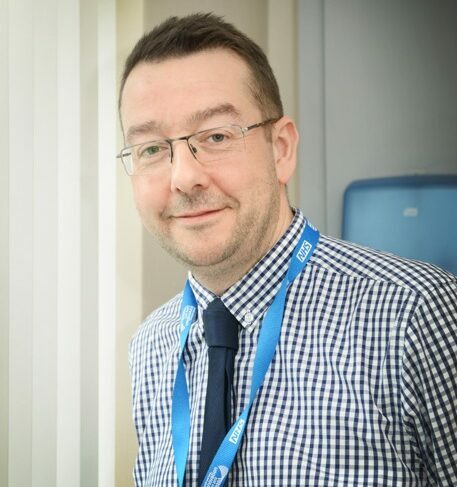 Paul Brown, new Interim Director said:
"I am delighted to be taking over for this interim period as UKCRF Network Director, working with colleagues in the CRFs of the UK and Ireland but also renewing friendships in Manchester. I look forward to this new challenge, helping to complete the current bid-cycle and especially to help Colleagues at NIHR Southampton CRF deliver this year's UKCRFN Conference successfully"
Dr Iain McLean, Managing Director for Research and Innovation at MFT, said:
"We are delighted to appoint Paul to this role. His experience and leadership across research and innovation, Lancashire CRF, and within the UKCRF Network, will enable us to continue building an exciting future for experimental medicine and clinical research across the UK and Ireland.
"I am also very grateful to Caroline Saunders at NIHR Cambridge CRF for holding this role since Helen's retirement until Paul's appointment."