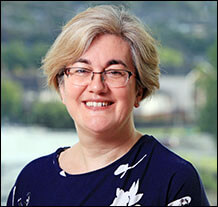 Written by Jo Studham
Clinical Research Facility Manager, NIHR Exeter CRF

March 2020
The NIHR Exeter Clinical Research Facility  (CRF) hosted a visit from the UKCRF Network team, Caroline Saunders (UKCRF Network – Deputy Director) and Andrew Dawes (UKCRF Network – Project Manager) on Tuesday 10th March.
The visit was a huge success with the CRF Team giving an overview of their areas of specialist research interest with state-of the art equipment to study obesity, diabetes, ageing and cardiovascular risk.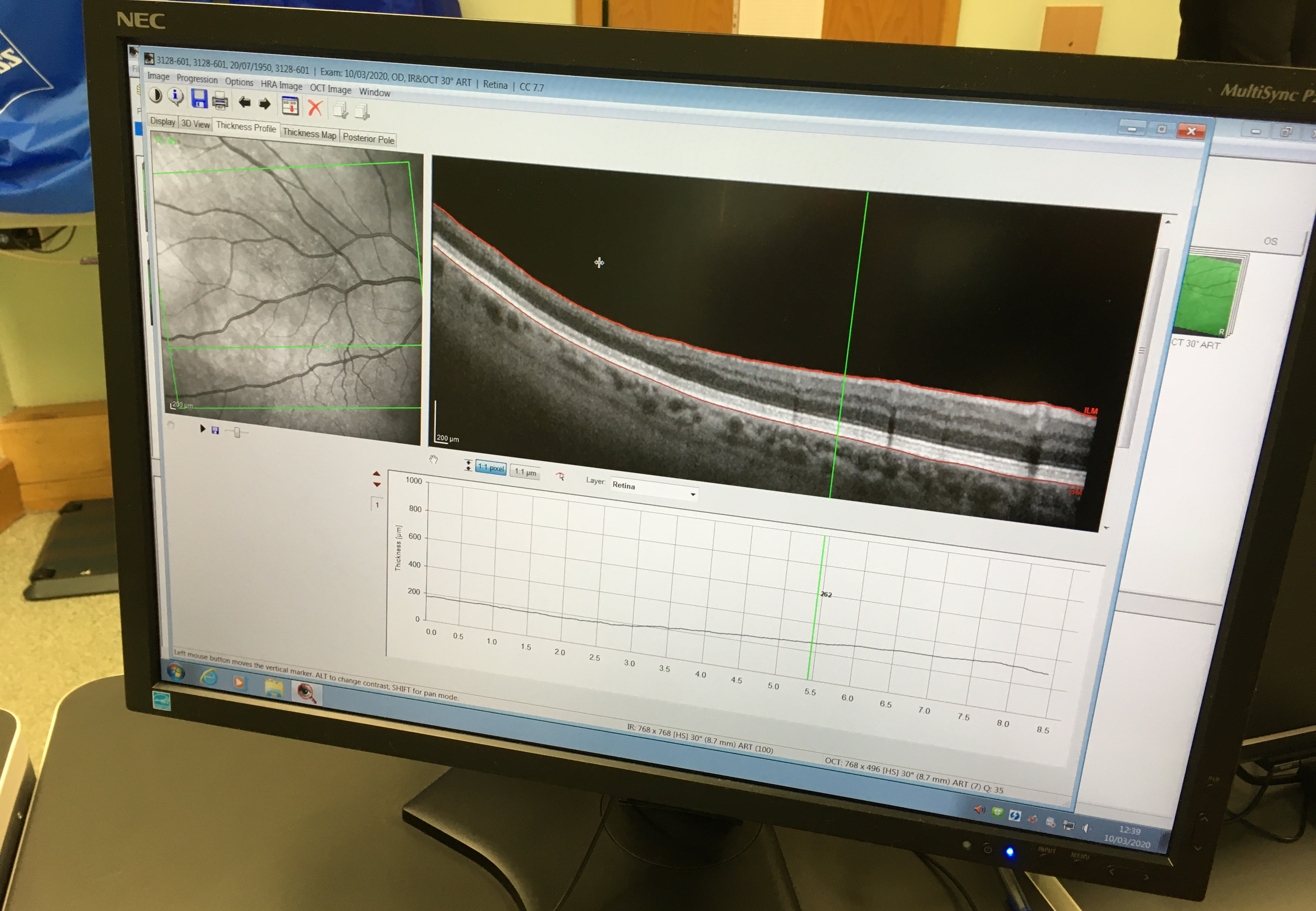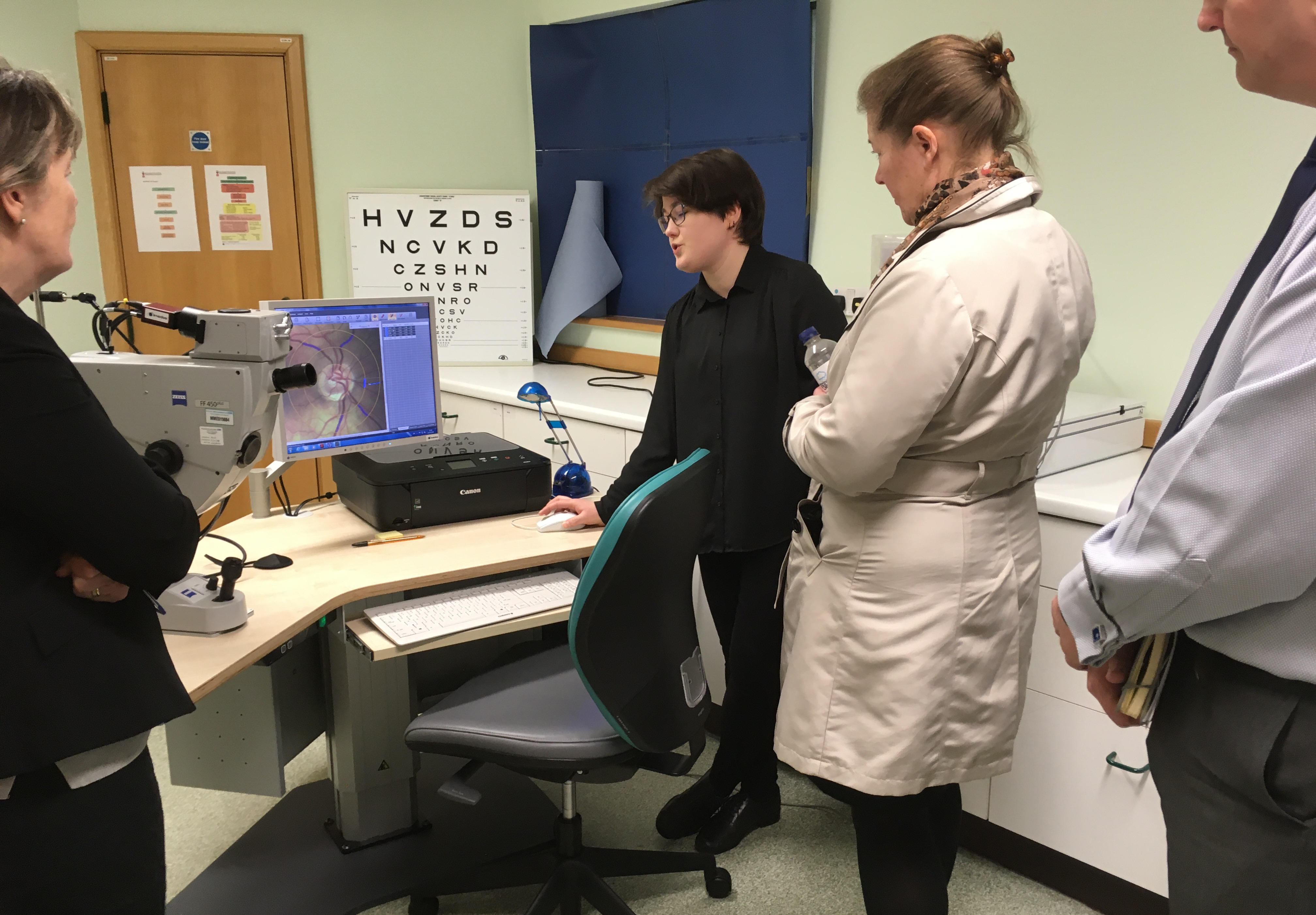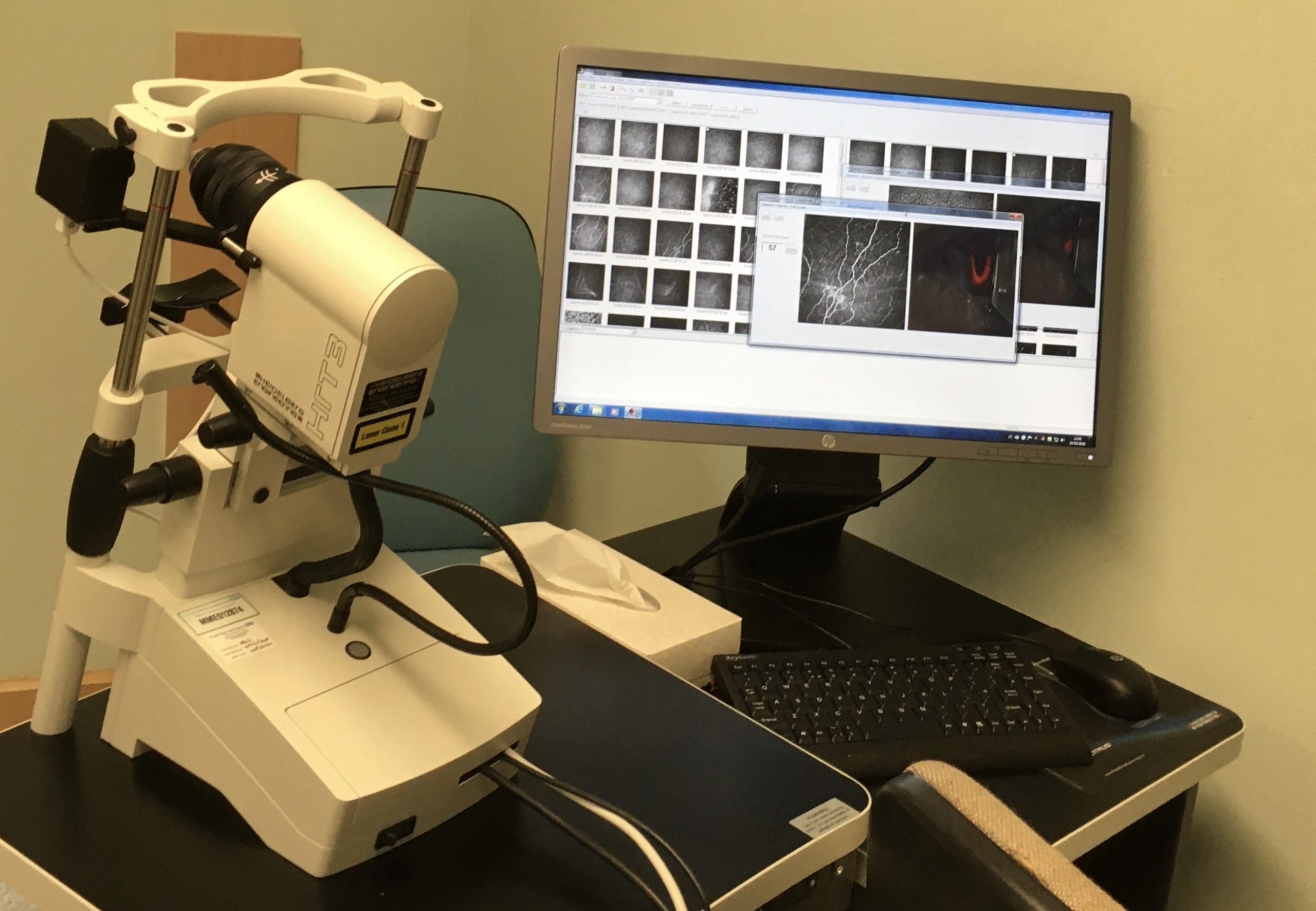 (Retinal assessment equipment pictured above; example of an OCT scan with a clear view of the retina and the choroid underneath (left), retinal vessel oxygenation (middle), corneal confocal microscopy (right)
Working in Collaboration
The visit highlighted the professional set up with highly friendly relationships between staff and demonstrated their close working relationships with the Exeter Clinical Trials Unit and South West CRN, showing how they achieve operational excellence.
The CRF and CTU team have set up a Project Triage meeting which enables both teams to review and discuss progress on projects from concept through to first patient visit.
The meeting also includes the Research Design Service, Trust and University Research and Development departments and representation from University Finance and Legal Departments as well as representation from the SW Peninsula CRN.
Experience has shown that grant submissions are rapidly progressed.
The CRF also receives Expressions of Interest (EOIs) direct from the CRN and they work with the local divisional leads to triage and respond to EOIs in a timely fashion.
This new approach has seen the number of EOIs received and acted up increase from 17 in two years to 136 per year.
The outcome has meant that the CRF has hosted more Phase I studies and increased the number of therapeutic areas that they are now supporting to undertake early phase experimental research.
The senior nursing team explained how they used both the CRN expressions of interest and UKCRF Study Intensity Tool as part of a thorough study initiation and feasibility process, which has and continues to support an increase in the number of early phase translational medicine studies that the CRF hosts.
The CRF currently hosts 105 open studies, including 10 early phase studies, 2 of which are Phase I CTIMP.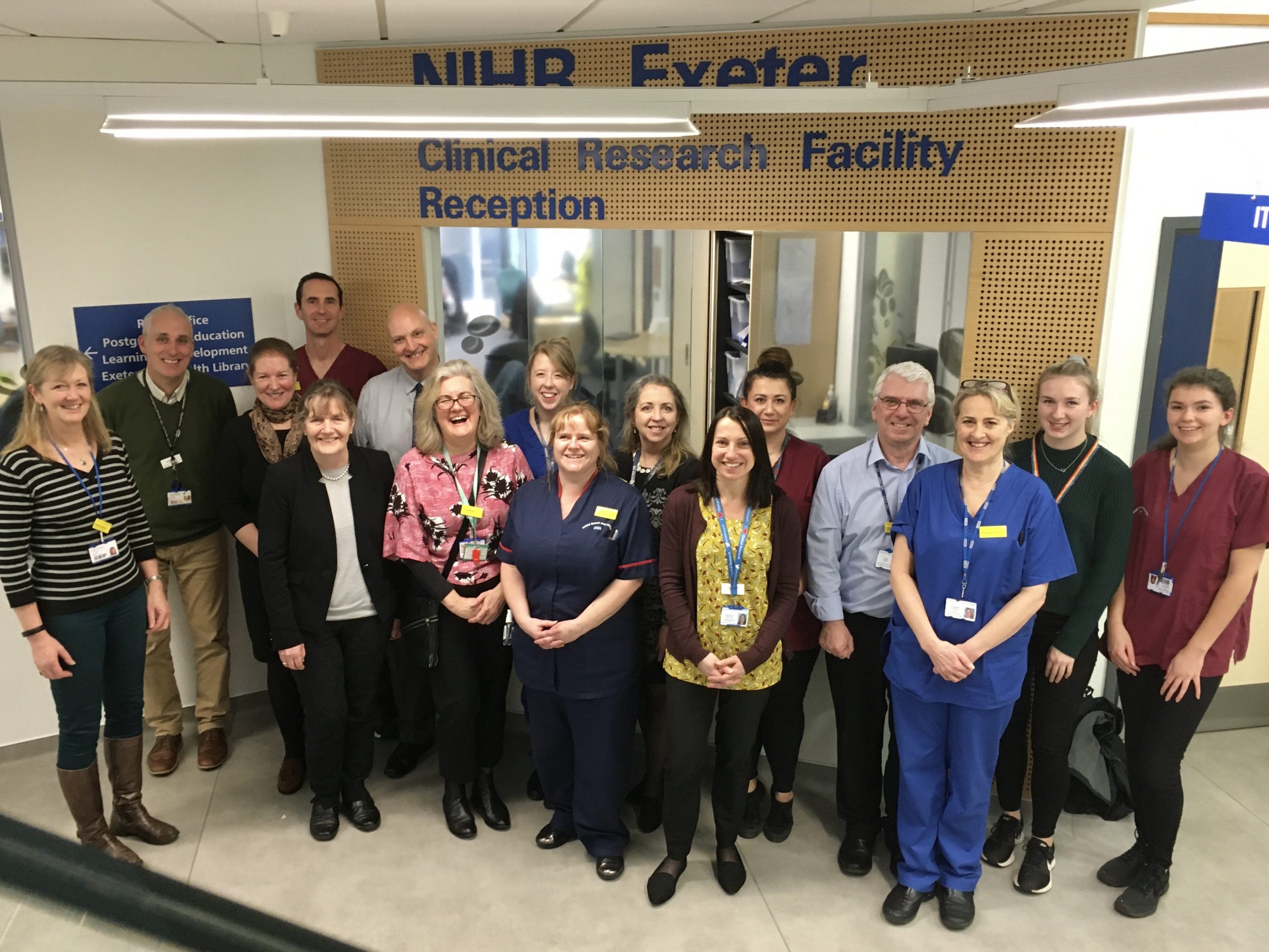 The CRF Exeter team provided a great overview of their Patient and Public Involvement & Engagement (PPIE) programmes, giving Andy and Caroline first-hand experience of the activities they use at outreach events. You can see Caroline in the pictures below participating in the nine-hole peg test (9HPT) that is used in clinical trials to measure finger dexterity in patients with various neurological diagnoses.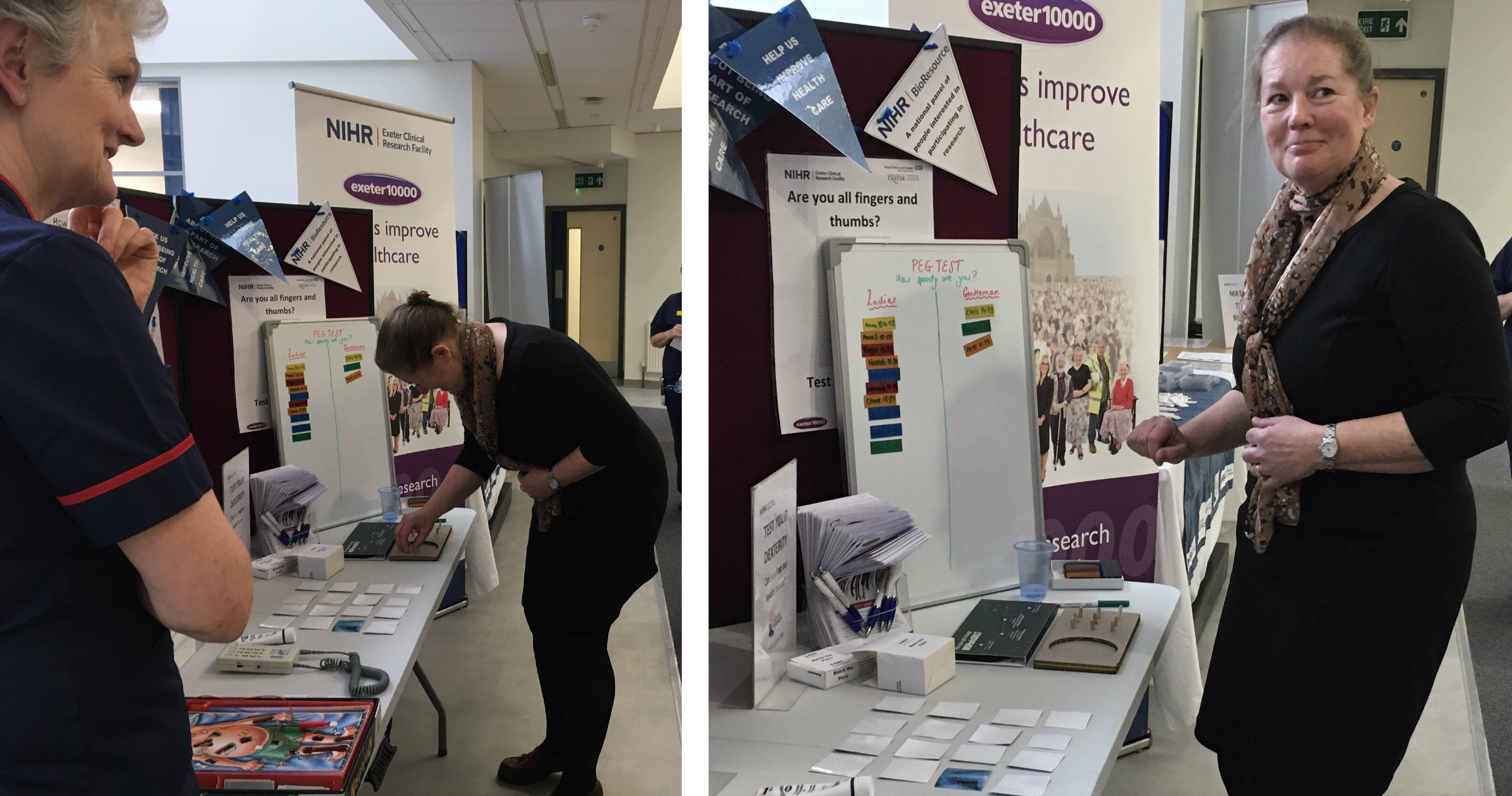 The visit would not have been complete without a tour of the CRF, laboratories and Mireille Gillings Neuroimaging Centre. The newly opened Mireille Gillings Neuroimaging Centre (pictured below) aims to over double the number of dementia drugs in development, through innovative use of new brain-scanning technology and techniques, and will also be used to help improve cancer diagnosis. The centre was built next door to the Exeter CRF and they have formed a close research delivery relationship.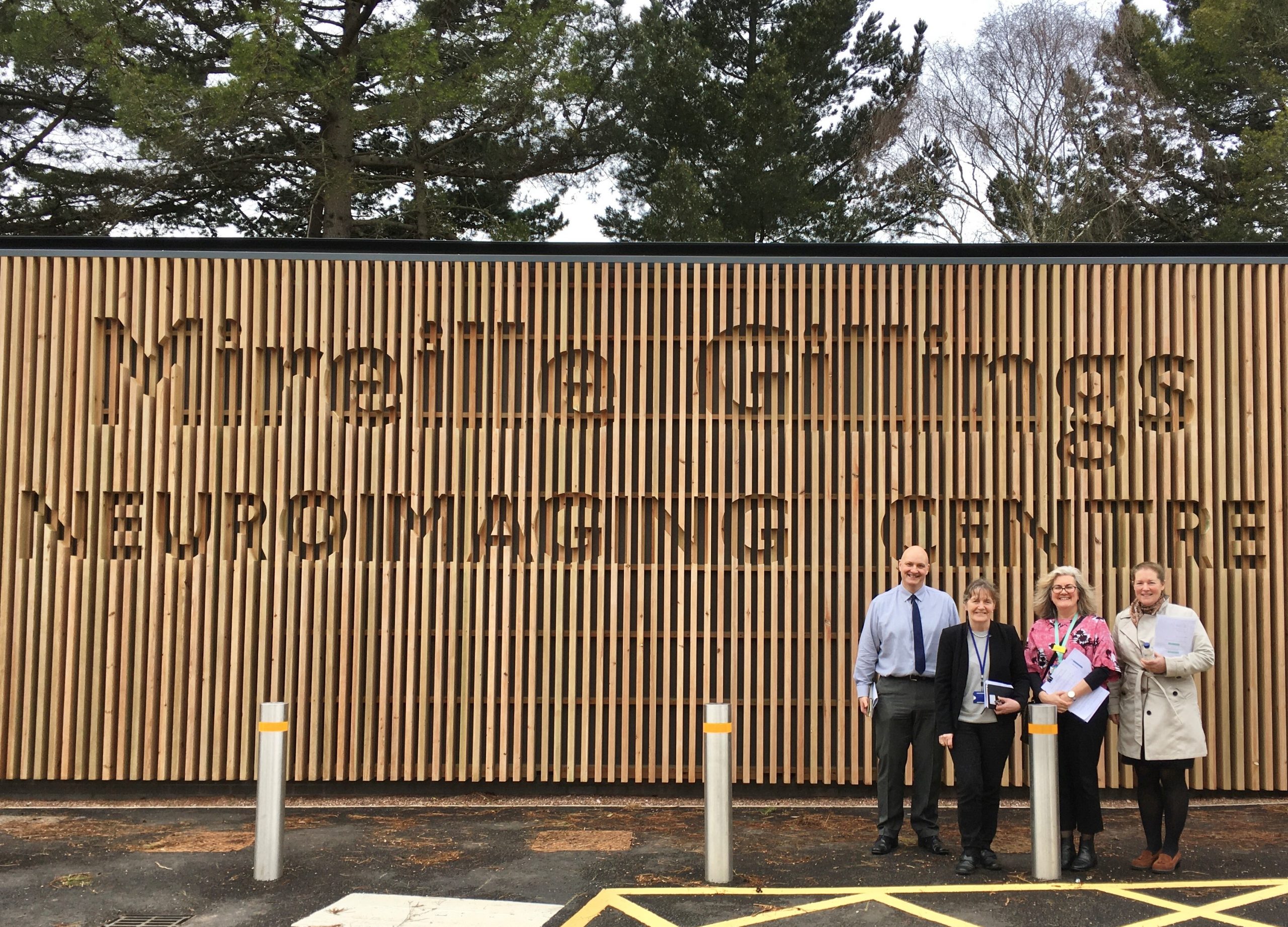 The CRF demonstrated further how it interacts and supports the various NIHR initiatives through its relationship with Professor Maggie Shepherd who is in receipt of a NIHR [email protected] award and workforce development through the support of clinical research professionals such as Chris Holgate, Research Practitioner and Lidia Romanczuk, Research Tissue Bank Officer.
Exeter have reviewed and revamped their NIHR Exeter CRF website and discussed the process they had taken in the review process, which included taking feedback from their Protocol Review Board.
 "Caroline and I really enjoyed our visit to the CRF. It is a great facility and it is very obvious that the team have put a great deal of work into making the CRF a superb centre of patients, public and staff. Our tour was interesting and informative, with the opportunity to meet a variety of staff from the CRF and related groups. We were particularly impressed by the close relationships between the various teams. Overall, we had a really good day with the team at Exeter and would like to thank everyone for hosting us in such a friendly and professional way." – Andrew Dawes, Project Manager, UKCRF Network
For more information about the facilities and research activities at the NIHR Exeter Clinical Research Facility you can visit their website at https://exetercrfnihr.org/