Written by: 

March 2021
.
The impact of the COVID-19 pandemic has been felt across the NHS and research infrastructure like nothing else in the lifetime of Clinical Research Facilities (CRF).
Whilst we can see and appreciate the struggles and challenges the last 12 months has brought, now is surely the time to celebrate the achievements and triumphs of the research infrastructure. We look forwards to a time when we can reflect on how adaptations that we have made could be for the better.
The NIHR Sheffield CRF would like to take an opportunity to share some of the adaptations we have made in a time when there has never been more awareness of clinical research thanks to advancements that we have contributed to with unprecedented speed.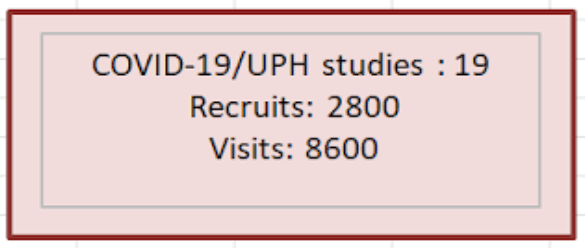 Adaptations
As non-COVID research was paused and re-prioritised our first key adaptation was a movement from 5 distinct disease-focused clinical teams to a more flexible model. Broadly speaking we now have 'Core-COVID', 'Vaccine' and 'Non-COVID' teams, however staff work across the portfolio as required. In the summer we appointed a dedicated Team Leader to focus on the rapidly expanding COVID-19 portfolio. This has enabled swift and efficient allocation of staff according to the current priorities of the Trust and the NIHR. This post is complimented by a designated Vaccine Team Leader, essential to facilitate over 1000 healthy volunteers.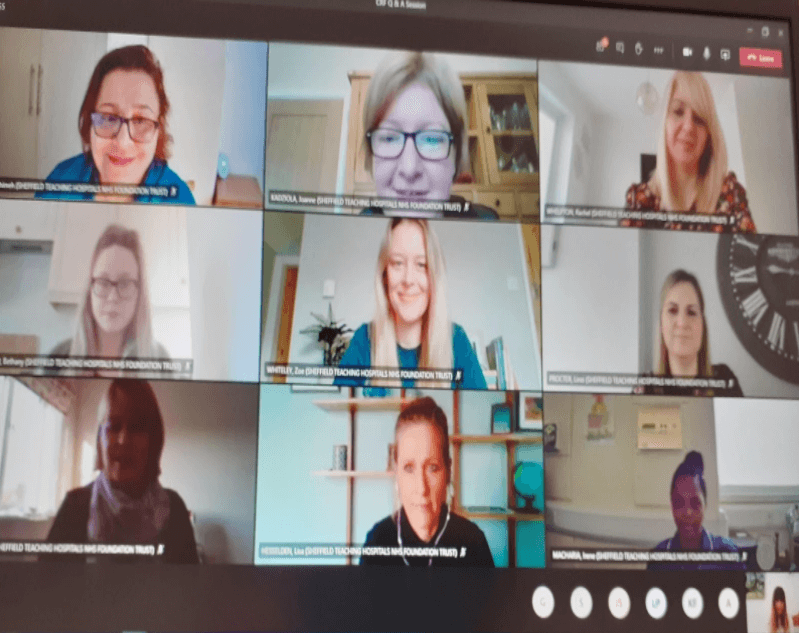 Re-purposing of rooms to enable social distancing
Increase in home working 
Use of MS Teams as a meeting platform
Period of 7 day cover for COVID-19 studies. This ceased at the end of the first wave but showed the flexibility of the CRF
Increased cross-site working 
New combined rota (across site) and way of allocating staff – Rota managed by T+E Lead resulting in efficient allocation dependent on skills and resulting in rapid training where required 
Regular Q&A sessions led by the Senior Management Team for information sharing 
Joint mailboxes to manage large studies
Admin staff working in altered roles
Resilience and Practicalities
The above adaptations have enabled us as a CRF to continue to provide a safe and effective research team with resilience built in to account for the unknowns which include:
Varying infection levels

Redeployment 

Sickness absence

Isolation and shielding

School closures
Being a CRF based on 2 sites in a Trust with 5 major hospitals with dedicated COVID wards in 3 locations has brought its challenges. CRF Research Nurses have built relationships with staff across the Trust providing training and recruitment support across a large area.
This was all achieved when also factoring in:
Infection control:
PPE requirements and time taken to put on and remove PPE

Quarantining of paperwork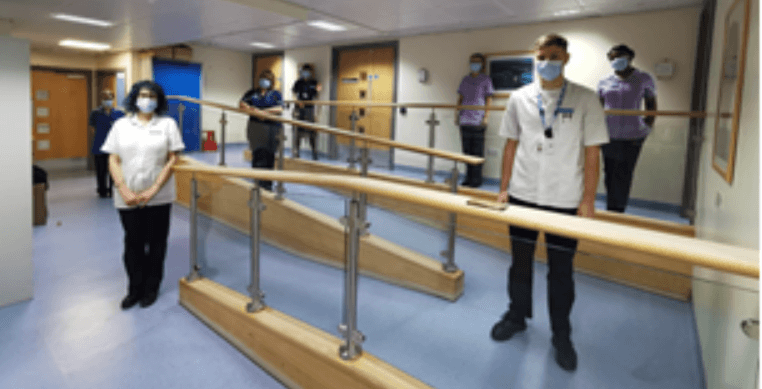 New policies and procedures in short space of time:
Consent/infection control

New protocols and standard operating procedures for practicalities such as handling and storage of treatments and vaccines
Collaborations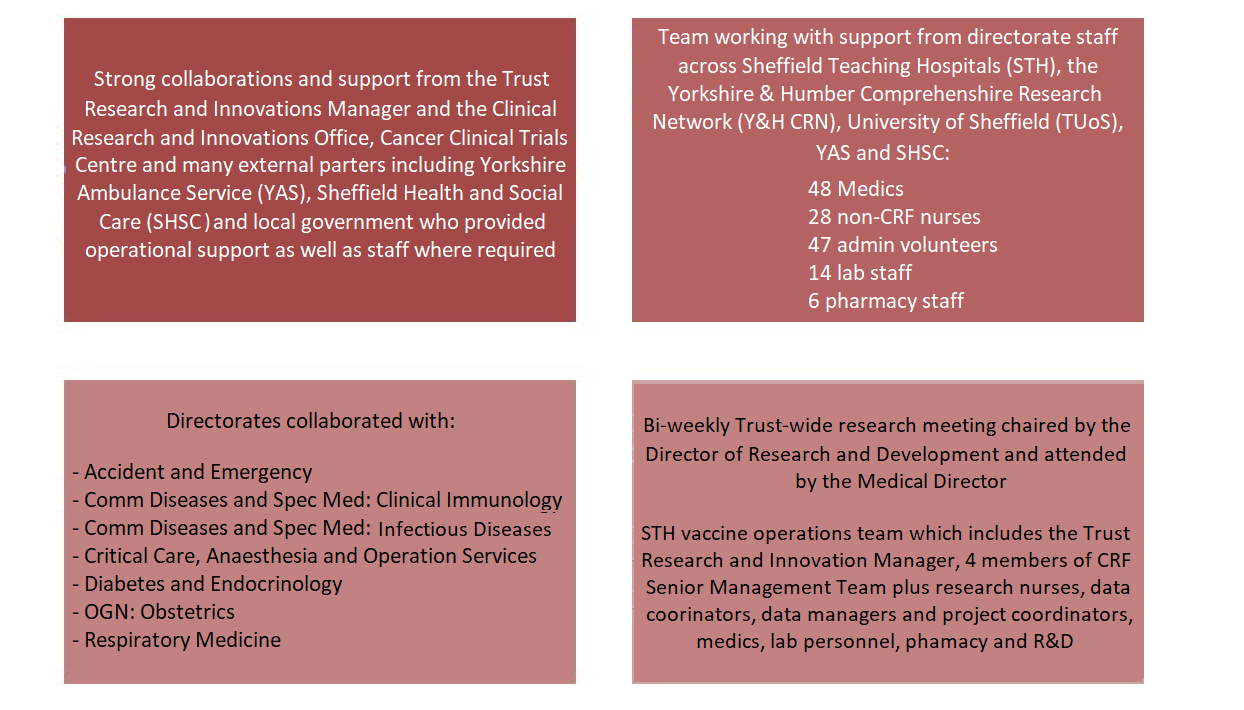 What did all of this help us to achieve
Swift study set-up, for example the first healthy volunteer was recruited to the Oxford /AstraZeneca vaccine study just a month after we agreed to participate. We were the 2nd highest recruiting UK site for this phase 3 study.
We contributed to studies resulting in:
Medicines being repurposed and

adopted into standard NHS care to help patients with COVID-19 including: Remdesivir, Tocilizumab and the Oxford 

AstraZeneca vaccine.

Mapping of new strain presence within the UK
Knowledge that certain investigated treatments were not clinically beneficial

Knowledge of how COVID affects

patients long term

Appropriate pathway for patients positive

for COVID-19 attending Accident and

Emergency 
What will we take away with us
To date we have been able to provide the opportunity to participate in research to thousands of patients and healthy volunteers and seen some key outcomes from the work we have supported. 
The benefits of more flexible working across the CRF sites and the relationships that we have built with our research and clinical colleagues across the Trust and CRN. 
We can work remotely with the use of technology to keep us connected.
What we have achieved is incredible. Together we are a stronger, more dynamic team who have supported thousands of patients and colleagues. We are very proud of what we have achieved and will take this positivity forward into the coming year.