20th May 2019
International Clinical Trials Day (iCTD) is an annual event where we raise awareness of clinical trials to encourage patients, carers and the public to get involved in research. We also celebrate our achievements and  take time to be grateful for the improvements made to public health.
We celebrate on the 20th May each year as this is believed to be the date of when the first controlled clinical trial was conducted. You can read more about James Lind's clinical trial and the evolution of clinical research here.
NIHR Be Part of Research Campaign
The NIHR are celebrating iCTD along with the launch of their new Be Part of Research website (formerly UK Clinical Trials Gateway), which will allow users to search for opportunities to participate in research. The NIHR has put together an iCTD communications pack that CRFs can use to organise and advertise thier events.
The pack contains information about:
Campaign objectives
Key messages
Supporting materials
Download the communications pack by clicking here
How to Get Involved
Get involved and help us recognise and raise awareness of clinical research by:
organising an event at your CRF or organisation
recording your event and activities with the NIHR here
showcasing your research
sharing photos of yourself and your team
tweeting with the hashtags #CTD2019 & #BePartOfResearch whilst tagging @NIHR_UKCRFN
Read below to find out how some of our CRFs are joining the campaign to highlight how we are leading the way with innovations that are changing and saving patient lives.
NIHR Birmingham CRF – Research Showcase
Birmingham CRF will be celebrating by displaying health breakthroughs at the annual Birmingham Health Partners Research Showcase on the 17th May.
Exciting developments in the last year include the opening of a world-leading conflict wound centre, which is aiming to prevent all scars within a generation, a trial that has cured a UHB patient with a rare condition, and other advances in cancer treatment, concussion diagnosis, and cardiology.
Joanna Gray, Clinical Manager of the NIHR Clinical Research Facility at QEHB, said: "Clinical research across the country is crucial in helping to change lives, and to help us all become healthier. The Research Showcase is always a brilliant opportunity to share what is often behind-the-scenes work with the public in an engaging, fun and accessible way.
The picture below shows last year's winner for best stand (IRF Rheumatology)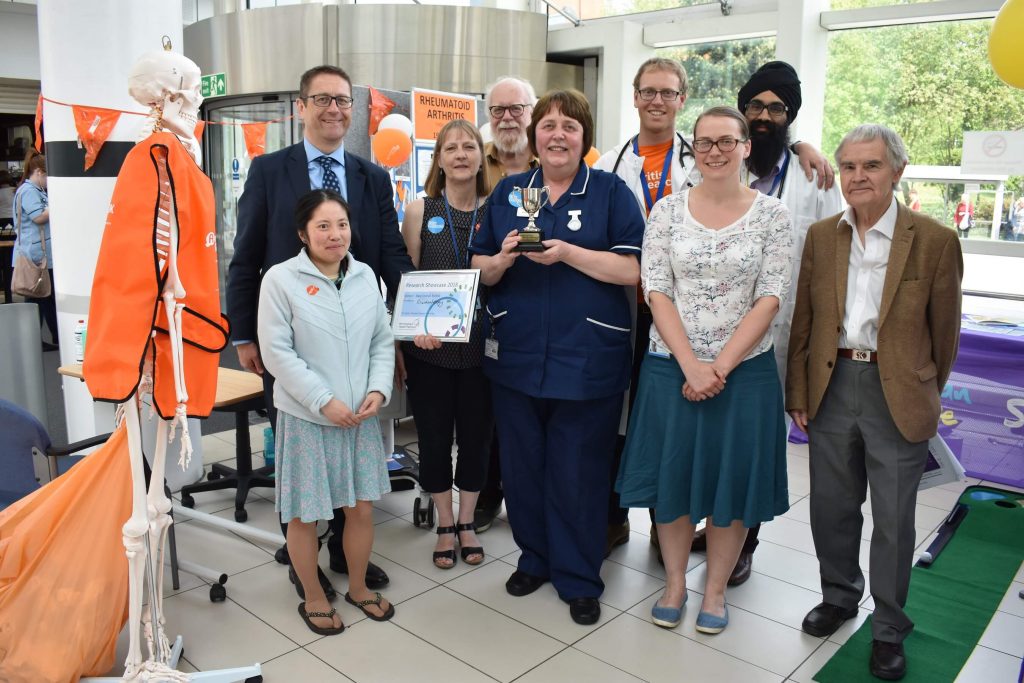 NIHR Leicester CRF – Primary School Activities
Leicester CRF, for the second year running, will be welcoming 60 pupils from a local Primary School to take part in activities to help them 'think scientifically' (photographs from last year's event are below).
They will also be having a trolley 'relay' between speciality teams, who will take a trolley packed with research information and goodies to outpatient clinics across their three hospital sites.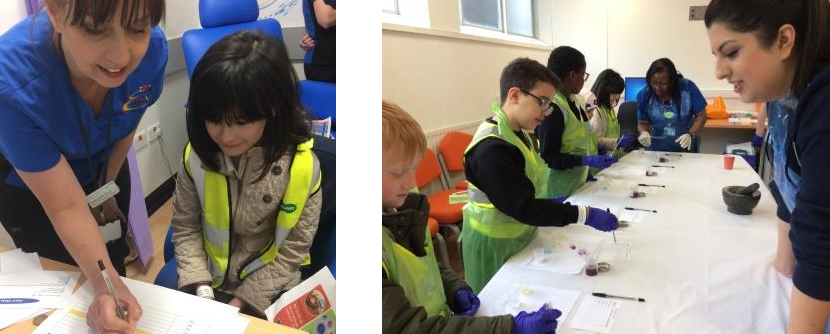 NIHR Manchester CRF – Photograph Competition
Manchester CRF are organising a photo competition across their four CRF sites. The CRF did this with great success to celebrate NHS 70 in November 2018, where they asked patients and the public to submit photographs representing "What research means to me'. There were some great photographs submitted, including the photo below by the winner  Jo Taylor entitled "Hope, Decisions, Aftermath, NEAD – No Evidence of Active Disease". We look forward to seeing the submissions for their iCTD competition. You can read more about the "What research means to me" photograph competition by clicking here.
NIHR Moorfields CRF – Interactive Stands
Moorfields CRF are celebrating with interactive stands placed throughout the Moorfield sites and at Liverpool Street Station. The stands will be packed full of educational and fun activities which explore the role of clinical research improving outcomes for patients with eye diseases and vision loss.
The will also be a demonstration of how modern mobile phones can be used to carry out visual checks, an opportunity to discover how it feels to perform normal day to day tasks when you have an eye condition and a chance to learn about the ground-breaking research currently running in the CRF. View their poster here.

We wish everyone a successful and fun International Clinical Trials Day.